Laminine

is a Natural, Synergistic Super Food, (many refer to as The Happy Pill) that contains 22 amino acids, trace minerals, vitamins and Fibroblast Growth Factor (FGF).

It's from the
"Miracle of Life"
with (a 30 day Money Back Guarantee)

It is also in the (Physicians Desk Reference):
2015-PDR
– 2016 PDR

, 3rd Year now

( 2017-PDR )
Optimal nutrition for your body, it gives your stem cells nutrition to rebuild and rejuvenate themselves.
American Health Journal Doctors Testimonies, etc.: Discover Laminine – View the Videos+
What Is Laminine?
Laminine is a unique and patented formula that provides essential proteins and amino acids. These amino acids contain the proper transport mechanisms that direct these nutritional building blocks to where our body needs it most. One of The Most Important Laminine Ingredients is Fibroblast Growth Factor (FGF). Found in the fertilized avian egg, Fibroblast Growth Factor speeds up tissue healing and improves cellular health. The combination of Fibroblast Growth Factor, amino acids and vitamins in Laminine deliver amazing health benefits.
The Proprietary Blend Used in Laminine is Known as OPT9
Each Laminine capsule contains 620 milligrams of OPT9 – a combination of essential amino acids, oligopeptides and glycopeptides. All of these nutrients and microelements can be found in the fertilized avian egg. The OPT9 formula is further enriched through the addition of highly beneficial plant and marine nutrients.
"Clinical studies show that Fibroblast Growth Factor has a positive impact on a cellular level, helping the body repair and rejuvenate itself".
This natural, synergistic superfood contains most known vitamins, important trace minerals and eight essential amino acids sourced from land, sea and plant.
---
8 Clinical Studies which showed positive effects on Physical, Mental, Emotional Strengths
and Overall Health. Research for Healthcare Practitioners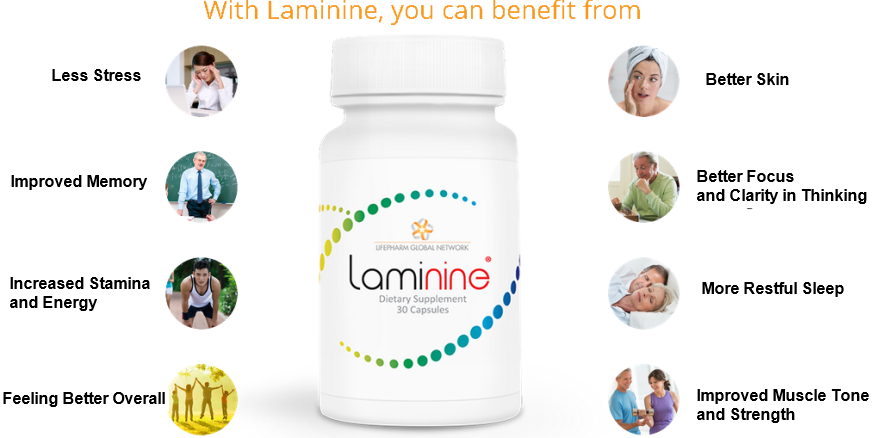 Laminine unleashes a powerful repair mechanism inside all of us. It can bring physical, mental and emotional health to a new level. Laminine

has a variety of potential health benefits, including strength, stamina, focus, improved sleep, increased libido, and sense of wellbeing. These various effects may all be related to the significant reduction of the stress hormone cortisol following the ingestion of Laminine

.
Laminine is a form of a natural 'adaptogen' helping to create a state of balance and restoration, returning the body to its natural state of homeostasis.
Most people who tried the Laminine dietary supplement for the first time experienced better mood, improved digestion, improved eyesight and better functioning of the eliminatory organs.
Laminine™ Research Confirms the Fact that this Formula Can Produce a Wide Range of Important Health Benefits. Some of the Most Important Ones Include…
Moderate the Stress Response

Maintain Healthy Cortisol Levels

Regulate Serotonin Levels

Reduce Physical and Mental Stress

Help Your Body Recover from Major Illnesses (e.g. Depression, Anxiety, Cancer)

Promote More Restful Sleep

Build Collagen for Healthier Skin

Reduce Signs of Normal Aging

Improve Emotional Balance

Promote Faster Post Workout Recovery

And Many More Health Benefits Reported By Everyday Users!

Enhance Muscle Tone and Strength

Improve Stamina and Energy

Increase Alertness

Aid in
Brain Function and Activity
(For people
suffering from Alzheimer's syndrome, ADD,
etc.)

Increase Physical and Mental Strength

Improve Focus

Increase Libido/Sexual Desire

Stimulate Natural DHEA Production

Improve the Overall Sense of Well-Being
What is the recommended dosage?
We recommend 2 capsules, twice a day for the first 10 days, and 1 capsule, twice a day thereafter.
According to the studies conducted by the team of Dr. Alex Martin, Lifepharm Laminine can reduce cortisol production by nearly 50 percent. This is one of the keys to keeping chronic stress under control and achieving emotional balance.
Researchers also found out that FGF plays an important role in the fertilized avian egg, which translates in a vast range of health benefits. FGF directs the amino acids and peptides to the right parts and cells of the body. It plays a vitally important role in "telling" cells what to do with these nutrients and how to utilize them properly. FGF plays another important role – it nurtures the stem cells of the body itself. FGF is a unique extract that is not present in other amino acid formulas.
Brief overview of Laminine History
In the late 1920s, Canadian Dr. John R. Davidson discovered an extract derived from the tissue in fertilized hen eggs at a precise point during the incubation period. It wasn't until almost 50 years later that the pursuit of fertilized egg extract was revived by Norway's foremost expert on egg research, Dr. Bjodne Eskeland.
Dr. Eskeland hypothesized that partially incubated, fertilized hen eggs contained a unique combination of amino acids, peptides, and protein fractions that could help provide an incredible array of health benefits upon consumption. It was found that on the ninth day of fertilization these partially incubated, fertilized eggs theoretically contain all the nutrients required to start a new life. This includes vitamins, minerals and proteins, as well as important defense factors, growth factors and hormones. It is during this very precise moment on the ninth day that this highly potent tissue is extracted.
After Clicking on One of the Links Below, Just CLICK the "Click Here to Agree and Continue" Button in the "Informed Consent and Participation Agreement" Form... to Begin Your Own Personal Q & A Session on How Laminine and Laminine Omega +++ Can Help You Achieve PERFECT Health.